Package Forwarding Working Process for Your USA Online Shopping Explained in Details
With mail forwarding service, your international shopping from USA becomes pretty quick and simple. All you need to do is register here in usgobuy.com and UsGoBuy will provide you with an American mailing address. With the address, you can wait for sale season and shop all you want from American online stores using your own credit card. If your card is not accepted by the American retailer, USGoBuy can purchase for you from them and ship internationally!
Once the items are delivered to our US warehouse, you will be notified. You can then check the items that arrived and decide whether you want them forwarded right away or wait for your other orders, and finally consolidate all your products to save more on total international shipping fee!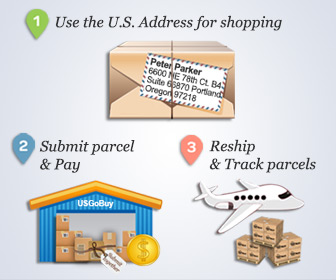 Is Package Forwarding Service by USGoBuy Expensive?
Free your mind of worries because we offer the lowest rates for shipping from US to Tahiti . You can add up insurance for a measly cost of 2% should you wish. We can even repack or consolidate all your ordered products for no extra cost to make sure everything is neatly packed for you to get the lowest possible shipping cost from US to Tahiti.
If you are wondering how it is possible for us, a legitimate mail forwarding service company, to offer such low price, you have to understand that we strategically placed our US warehouse in Portland, Oregon, which is one of the tax-free states in the United States. Here are the other benefits you will get by choosing our mail forwarding service from USA to Tahiti :
Free registration

No monthly fees

Your own personal USA address

Free package storage with no deadline

Return Service

Tracking provided

Real-time order management

Order Checking Service

Online Assistance

Discounted shipping cost (Shipping Cost Calculator)
We might be a new company having started only in 2013 but we have proved ourselves early on. Try our international shipping and you will not only get the lowest price but the most worry-free service.