Cheap Global Shipping & Mail Forwarding Service for International Customers' GAP US Online Shopping
Why International Customers Buy from GAP US Online Store & What Benefits Customers will Have?
Chances are you've heard of the Gap and know the amazingly wide selection they have of clothes to offer for men, women, and children (not to mention babies!), and personal customer favorites have made a staple in their brand name. All of their jean styles, for instance, are fit to make sizes from extra slim to plus size as well as longer and more petite sizes depending on your height needs. The particular details of the jeans as well as the bargain price that they come at a pair bring customers in flocks to secure that comfy fit that is also stylish for casual wear. Another staple product is back to school shopping lines for boys and girls. Anything from basic day wear to recitals is available and the end of the summer is a great time to stock up for fall!

The Gap has a unique origin that explains the variety of apparel and accessories available for customers. The founders, Donald and Doris Fisher, came up with the name to reference the "generation gap" between families growing up and decided to create a brand name that would suit not only any member of the family, but also cater to business men/women, and carry lines for holiday attire and special occasions. In 1969, their dream became a reality and their famous stamp in history as one of the leading brands in the industry still stands today with their focus on sustainability and affordable prices for quality necessities.

"My online shopping cart is full! How do I use USGoBuy to ship to my destination?"

International shipping and forwarding has never been easier with USGoBuy. The simple steps involved are as easy as making your purchases. First, go onto USGoBuy.com and create an account. You will then receive a mailing address to use when finalizing your purchases. After your items are sent to the USGoBuy warehouse in Oregon, you will have the option of adding any specific details when it comes to their last leg of the journey. After paying for shipping and handling through USGoBuy, which can be finalized through most third party online transaction sites such as PayPal, your packages will be shipped to your doorstep with care and quality service in mind.

Gap Products

Basic items for women, men, and children only begin to cover the spectrum of lines available from the Gap. An athletic line, GapFit, offers everything from sweats to sports bras, while the maternity section even offers pregnancy clothes for women depending on which trimester they are in for a more comfortable fit. The variety is endless. Baby and toddler clothes and gear? Check! Girls and boys section for every thinkable occasion? Check! Prefer shopping directly from the Gap factory for recently discontinued items? Check! The Gap is also partnered with other name brands such as Banana Republic, Hill City, Athleta, and Old Navy through their e- commerce store that offer discounts that are interchangeable while shopping.

Discounts Galore!

The Gap offers a plethora of discounts — sometimes too many to count! Just by making an online purchase for the first time you can save up to forty percent. There is currently an online only discount that is offering fifty percent off of everything with an additional twenty percent off your total purchase. Simply type the code "EXTRA" and enjoy the savings! These sales events often change, but there is always some sort of discount to be had, so be sure to sign up to their newsletter to stay in touch with the dollar savvy dates.
How USGoBuy Mail & Package Forwarding Service Works for International Customers' Shopping at Gap?
Easy and simple: USGoBuy gives you a US shipping address for free and you can use it as the address to receive your Gap orders. After your Gap purchases arrive at USGoBuy warehouse, you can ask USGoBuy to handle your packages in several options before shipping out: repacking, consolidating or gift labeling. All these services are free and save your shipping costs.
Register now to have your own US shipping address and enjoy cheap shipping by USGoBuy: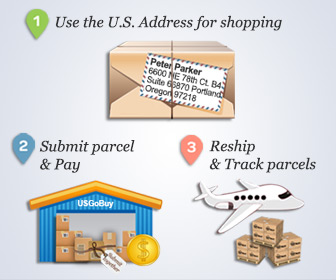 Gap shopping guide & Gap coupons
Do read shopping tips or guides before shopping at Gap, and never forget Gap coupon codes that will help you save extra money!