Click to go shopping at Kohl's
Cheap International Shipping for Kohls US Online Shopping
USGoBuy package forwarding services help you save more on Kohls shipping & shopping
Even though Kohls store acknowledges that its products are popular among overseas customers, Kohls direct international shipping doesn't exist. This is a great pity for their international shoppers who plan to buy from Kohls. But here we have good news for international shoppers and offer an affordable alternative way to realize their shopping needs with Kohls, and that is the USGoBuy package forwarding service.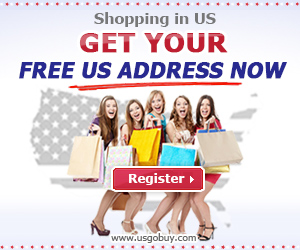 How to use package forwarding service for Kohls international shopping
The package forwarding service by USGoBuy for Kohls international shoppers is both inexpensive and convenient. To make the international shopping and shipping process as simple as possible, USGoBuy provides each of its customers with a free US address with unique suite number. That suite number actually represents your unique customer identity and corresponds to a zone within our warehouse. This makes sure that nothing will go wrong with all your packaged received and to be shipped out.
Fill in with your USGoBuy address as the shipping address for your Kohls purchases. Once the packages arrive at USGoBuy's warehouse, you will be notified and then request the package to be shipped to your international address. At this time the customer is billed for the international shipping cost only. The shipping rate is much lower than you get from the US retailers and other package forwarders. Compare the international shipping cost from US to your country with our shipping calculator.
Maximum Kohls online shopping savings with our free services
Our package forwarding service includes many other free services to address all the concerns and problems international shoppers may encounter and ensure maximum online shopping savings. Thus we offer a lot of services for free but these free services are quite beneficial!
| | |
| --- | --- |
| Our Free Services | Benefits |
| Free membership | Join us for free to get your US shopping address and avail of our package forwarding service |
| Free repacking | Lower the size/weight of your package to reduce the shipping fee |
| Free consolidation | Combine all your US purchases into one package, and save on international shipping costs |
| Free product image | With pictures you can be sure of buying what you want and rest assured of its quality |
| Free package storage | No hurry in shipping out your packages especially when you are traveling or not convenient to receive your packages. Also you have more time to choose for your Kohls shopping and US shopping. |
About Kohls and Kohls shopping tips
Kohls is an American based retail store that provides a variety of products including clothing and other household goods. Today Kohls'goods are not only popular in America and but also around the world.

When you shop Kohls, finding the right products with low prices requires some tips and skills. Get familiar with Kohls navigations and search box, then filter all the results by price or styles. It is helpful to read some shopping guides written by frequent shoppers. When you have settled down and decided which products you would like to buy, search for Kohls coupons to use and save whenever it is possible.