Click to go shopping at ModCloth
Shop without Borders at ModCloth US Online Store: Cheap International Shipping
Simplified ModCloth International Shopping Experience with USGoBuy
International shoppers will appreciate the simple way USGoBuy can help you shop at ModCloth American online store and how affordably USGoBuy can have your packages shipped or forwarded to your international address. USGoBuy is the leading package forwarding service provider for ModCloth and all other top US online stores!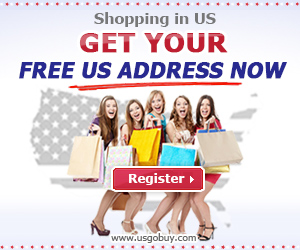 The simplified steps of your ModCloth USA online shopping with USGoBuy
With USGoBuy, international customers'shopping experience and shipping out of US would be quite simple. Below are the steps:
Step 1: Sign up at USGoBuy to get a free US address. This is a valid address you can use for your ModCloth orders.
Step 2: Place your order at ModCloth while using your USGoBuy address as shipping address.
Step 3: ModCloth ships your packages to USGoBuy warehouse, where you packages can be handled (free repacking or consolidation)
Step 4: Log in your USGoBuy account to give us your home address and pay for calculated international shipping costs.
Step 5: USGoBuy ship your ModCloth purchases to your address via chosen courier like DHL, USPS and FedEx.

(More on how our package forwarding helps)
Besides the simplified shopping experience, you can also enjoy a lot more free services offered by USGoBuy, such as free repacking, free consolidation, free product images and others.

(More on free services of USGoBuy)
ModCloth Shopping Tips
Looking for some great deals on ModCloth USA online store? Then check out their 'sale' section, or become a 'fan' on ModCloth Facebook, where they often lists promotional codes and exclusive sale opportunities. International shoppers can also head to sites like goodsearch.com where ModCloth promo codes are often listed. You can also sign up on the ModCloth site to become a 'ModCloth Insider' which gets deals and promos delivered right to your email inbox.
Introduction to ModCloth US Store?
ModCloth USA online shopping is a leading e-tailer in indie clothes, home décor and accessories. They keep their customers up to date on style and fashion, offering you fresh and relevant products. ModCloth has more unique, indie designs and one-of-a-kind items than anyone other fashion retailer on the Web.
ModCloth grew out of a love for vintage items, and you will find that 'vintage look' represented in their clothes, accessories and home decor products. While the items may be new, they have the vintage, thrift store look about them that is all the rage today.
From dorm rooms to apartments, from shoes and scarves to skirts and tops, ModCloth has it all. Every day you will find new merchandise as the site just keeps growing in popularity. In fact, the site has grown so much over the last few years, that it has been named "America's Fastest-Growing Retailer".
Why not shop now? Check out their latest deals and their new arrivals! See what you can find, and take advantage of cheap ModCloth international shipping by USGoBuy!