Click to go shopping at Nordstrom
Nordstrom International Shipping Available for Shoppers Overseas
USGoBuy Package Forwarding Services Simplify Your Nordstrom Shopping & Shipping Experience
Nordstrom is a very popular site to shop online as they offer great prices and good variety for brand products. However, Nordstrom does not have direct international shipping for their overseas shoppers. This used to cause inconveniences to international shoppers, but not now since USGoBuy package forwarding service is in US to help!
USGoBuy enables international shoppers to shop Nordstrom without borders as if they are living in the US. The secret lies in giving a free US shopping address to all international customers. For all registered users, USGoBuy gives a US shopping address for free!With that free US address and our package forwarding service, your international shopping at Nordstrom would be simplified like this:
→Shop at Nordstrom as Americans

→ Use this US address as shipping address
→Nordstrom ships to this USGoBuy address where your packages are processed
→Pay for shipping cost
→USGoBuy ships packages out to your international address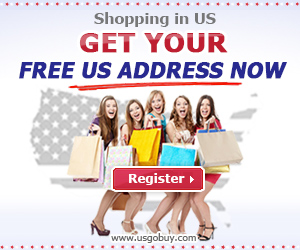 Register now to have your own US shopping address and anyone interested can take a look at our How It Works page to learn more!

What are the benefits of using our package forwarding service for Nordstrom international shopping?
By using USGoBuy package forwarding service for your international shopping at Nordstrom, you can save money in all aspects, in addition to lower shipping rates.
Much lower international shipping rates: we reduce your shipping costs to the lowest rate possible by offering discounts. We have solid partnership with DHL, FedEx and USPS and ship package in bulk via them.
Secure and quick shipping: We forward all our packages through the world's top postal services like DHL and FedEx, they are known for their security and quick shipping time.
Maximum online shopping savings: USGoBuy could repack or consolidate your packages to reduce the package weight or size. This saves your money on international shipping cost, and is quite useful if you are ordering at multiple US shopping sites. Remember these repacking services and consolidation services are FREE!
A lot of free services to best meet your international shipping needs: free package storage for 6 months at most, free image taken of your products.
Why international customers shop Nordstrom?
Nordstrom is a department store that has everything that you could imagine for sale. Nordstrom USA online store has women's clothing, men's clothing, kid's clothing and things for the home, just to name a few. Nordstrom offers free shipping in the continental United States including Hawaii, and Alaska. The nice thing about the free shipping is it is free no matter how much you have spent. International shoppers can benefit from this with USGoBuy's free shopping address. They also offer gifts that you can buy as well as many sales or promotions. Nordstrom even offers free returns, so if you don't like the item that you bought you can return it for free. When you have your US address, this return becomes much easier!
Nordstrom shopping guide and coupons
Choosing the right item at Nordstrom and order at a best price requires time and tips. So reading the Nordstrom shopping tips benefits you with better shopping experience. Never ignore the Nordstrom coupons when it comes to saving money! You can get Nordstrom coupons at RetailMeNot or at Coupons.com.